While rising water costs and concerns over local drinking water treatment are understandable, installing a private well is a good option for many. There's no denying that installing a complete well water system is a big expense. But if you're willing to put the time and effort into the process, it can pay for itself over the long term.
If you live in the Northeast, you're likely to spend anywhere from $2,000 to $5,000 for a new well. In this guide, we've shared all you need to know about the average well drilling cost, including the costs of different well types, and the factors affecting the price to drill a well.
Well Drilling Cost: Highlights
In this article, we look at all the costs of drilling a well. You'll learn about things like material costs, labor costs, and equipment costs. It will cost you around $5,300 to $9,200 to drill a 150-feet well.
The price range for well drilling is from $3,800 to $15,300. The average drilling costs per foot vary between $25 and $65. Shallow water wells are cheap to drill, costing about $1,800 to $3,000 on average. A well lasts for about 40 years and takes one week to install. The cost of the well will depend on the size of the well and the soil conditions.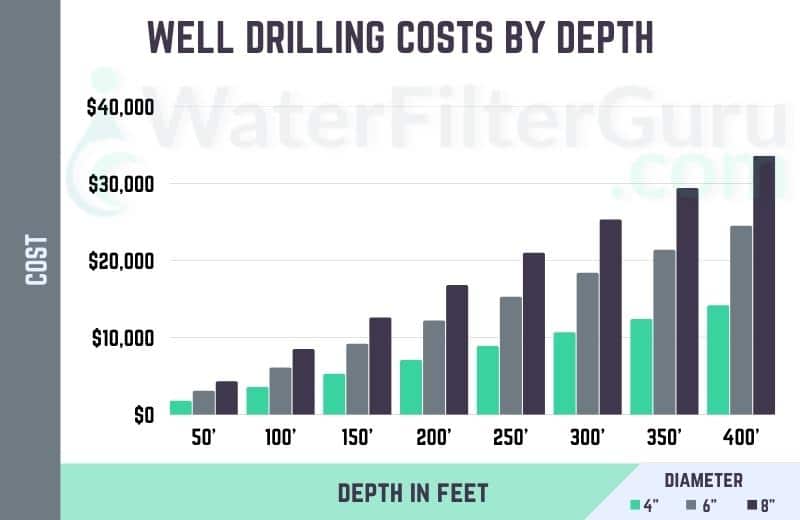 Depth (Feet)
4-Inch Diameter
PVC Casing
6-Inch Diameter
Steel Casing
8-Inch Diameter
Steel Casing
50
$1,800
$3,100
$4,300
100
$3,600
$6,100
$8,500
150
$5,300
$9,200
$12,600
200
$7,100
$12,200
$16,800
250
$8,900
$15,300
$21,000
300
$10,700
$18,400
$25,300
350
$12,400
$21,400
$29,400
400
$14,200
$24,500
$33,600
Cost of Well Components
The total average cost of installing a new well is determined by the cost of the individual components that make up the well system.
Well Casing
It is important to install properly the wells for the purpose of maintaining them as they are meant to do. If you want to buy casings, you'll have to invest at least $250 to $2,500
There are three common types of well casing:
| | | |
| --- | --- | --- |
| Type | Description | Average Cost per Foot |
| Stainless Steel Pipe Casing | Strongest and most durable casing | $120 |
| Galvanized Steel Pipe Casing | Relatively strong and durable | $30 – $55 |
| PVC Pipe Casing | Less durable and rigid | $6 |
Well Pump
The average cost of a well pump is between $500 and $2,000. The cost of a well pump varies according to the depth of the well, whether or not it's a shallow or deep well, and how large the well is. There are three common types of well pumps available today: shallow well jet pumps, convertible jet well pumps, and deep submersible well pumps.
Type
Description
Average Cost
Shallow Well Jet Pumps
Designed for wells with a depth of
25 feet or less
$400 – $1,000
Deep Submersible Well Pumps
Designed for wells between
90 and 300 feet deep
$600 – $2,000
Well Storage Tank
When it comes to your home's water storage, a good water storage tank is essential, especially if you live in a warmer climate where freezing weather can be a concern. A pressure tank helps reduce how often the pump switches on and off. You'll save energy, too!
Well water tanks are inexpensive, starting at about $100. If you're looking for quality, this may be your best option. If you have a good-sized storage tank, it will probably cost more than one that is smaller in size. It's not just the size that matters, but also whether you're going to be filling the tank daily or just a couple times a week.
Well Seals and Caps
If you want to repair the plumbing in your house yourself, you will have to pay between $20 to $40 It's crucial to have a cap or seal to prevent contaminants from entering the well at the surface. Water flows through a sealed well in a gasket. In wells, the power and water lines are laid beneath the ground.
Cost Per Foot to Drill a Well
The average cost per foot to drill a well, for the drilling only, is about $12 to $25. This price varies from area to area, but an average is $35 to $100. Let's look at the different types of wells and the average cost per foot of drilling them.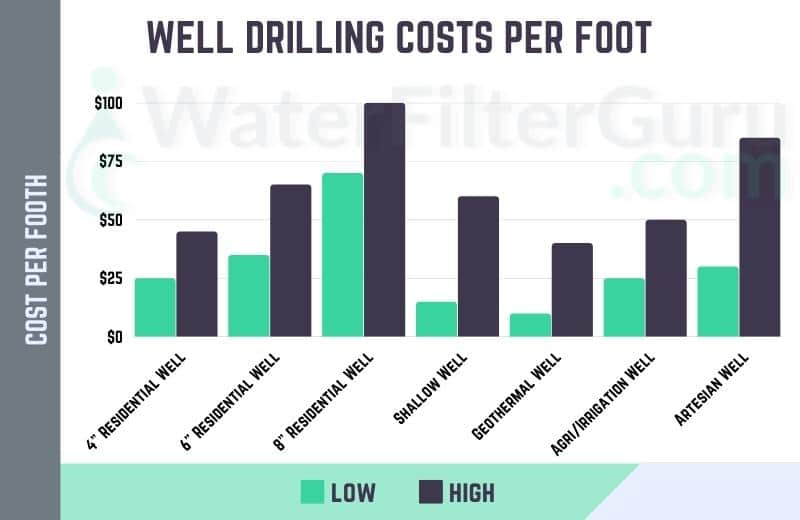 | Type | Average Cost per Foot |
| --- | --- |
| 4″ Residential Well | $25 – $45 |
| 6″ Residential Well | $35 – $65 |
| 8″ Residential Well | $70 – $100 |
| Shallow Well | $15 – $60 |
| Geothermal Well | $10 – $40 |
| Agricultural or Irrigation Well | $25 – $50 |
| Artesian Well | $30 – $85 |
Residential Wells
Drill costs vary depending on the size of the well you plan to drill, but they are usually around $25 to $65 per foot. A deep well may cost anywhere from $3,500-$15,000, depending on its size, depth, and location. This cost covers every expense, including drilling, all the well components, including casing, a pump, initial water quality testing, a permit, and the wiring.
| | |
| --- | --- |
| Item | Average Cost |
| Drilling | $25 – $65 per foot |
| Well Casing | $250 – $2,500 |
| Well Pump | $500 – $2,000 |
| Well Storage Tank & Switch | $450 – $1,500 |
| Electrical Wirings | $400 – $1,600 |
| Permit | $300 – $700 |
| Well Water Testing | $20 – $500 |
| Water Treatment | $700 – $4,500 |
| Water Heater | $900 – $1,900 |
Shallow Wells
Shallow wells cost between $15 and $60 per foot or between $1,800 and $3,000 for the complete well. Shallow wells usually have a diameter between three and ten feet and are between twenty-five and fifty feet deep. Deep wells are less expensive to build than shallow wells, but they're also more expensive to operate.
Geothermal Wells
The cost to drill a geothermal well is $10 to $40 a foot. A geothermal well is typically between 1,000 and 3,000 feet deep and between 4 and 8 inches wide. There are many different ways to install a geothermal well. The total cost will vary depending on which method is used.
The typical price of a vertical geothermal heat pump system can be from $20,000 to $35,000. This price covers the material cost and transporting the equipment to the drilling site. It does not include the cost of drilling the well. The best way to use geothermal heating and cooling is to transfer the heat from the ground to the home or commercial building.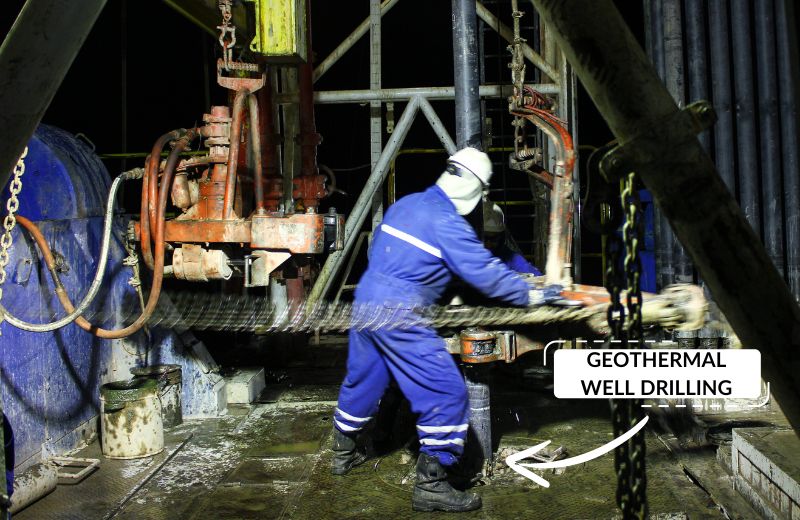 Sand Point Wells
Drilling a sand well costs about $500 to $3,000 on average. Sand point wells are usually drilled to a depth of about 50 to 100 feet and are between 1 and 2 inches in diameter. Water wells are an ideal way to get clean, safe drinking water. With these wells, you can choose a manual pump or a motorized pump (jet pump).
A sand point well is the best and easiest well to install. It's safe, easy and cost-effective. Sand wells don't usually provide consistent access to water and only work when there is a shallow well that brings up water to the surface.
Item
Average Cost
Sand Point Well Kit
$250 – $500
Sand Point
$40
Steel Down Pipe
$90 – $140
Small Tank and Hand Pump
$150 – $350
+ $150 installation cost
Pressure Tank and Jet Pump
$300 – $650
+ $440 installation cost
Well Seal and Cap
$25 – $45
Agricultural or Irrigation Wells
For just the drilling, an irrigation well costs between $25 and $50 per foot. An average installation of a complete heating system is $85 to $110 per foot. If you have to ask whether you should install an irrigation well, there's no doubt that you should install an irrigation well. It costs between $50,000 and $75,000 to drill a commercial agricultural well.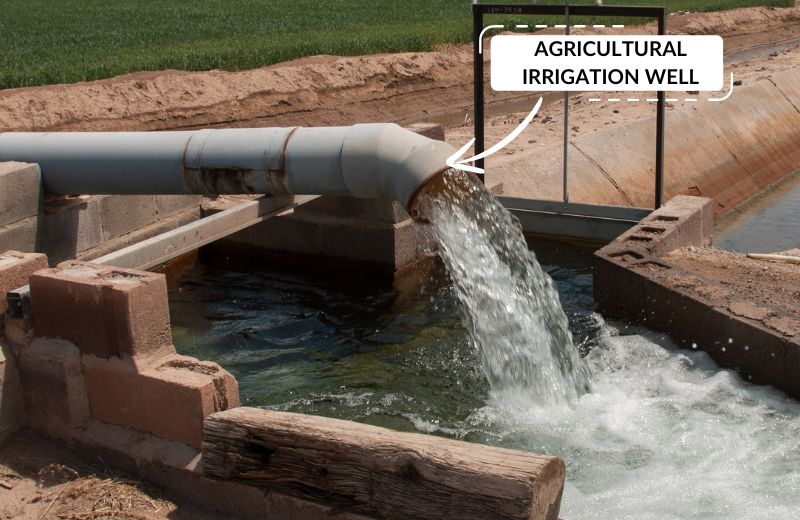 | | |
| --- | --- |
| Type | Average Cost |
| Commercial Drilling and Pump | $50,000 – $100,000 |
| Residential Drilling and Pump | $10,000 – $15,000 |
| Pressure Storage Tank | $500 – $3,000 |
| Electrical Wirings | $530 – $1,060 |
| Permit | $300 – $700 |
Artesian Wells
Artesian wells are typically between $30 and $85 per foot, but the total cost of a well can range from $5,000 to $15,000, including drilling, and the costs of casing. Artesian wells are a lot less expensive to operate than other types of wells. An aquifer is a highly pressurized environment. Water naturally flows into the well system without the need for electricity or a pump.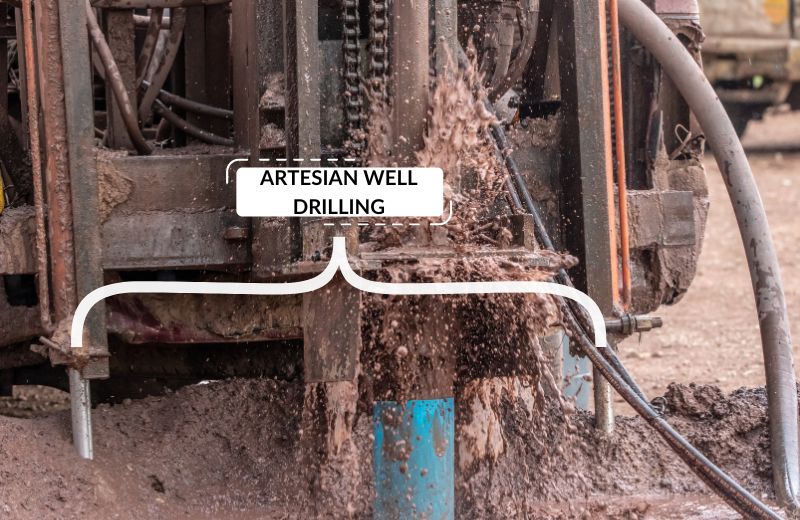 Well and Septic System Cost
The rural homes that use an off-the-grid system often need to install a septic system and a well, in order to get drinking water and wastewater disposed The cost of installing a well and septic system together ranges from $7,000 to $20,000.
The size, depth, and type of septic tank, and the absorption field that the septic system uses, affects the cost of septic tank drilling. These two factors are critical to the cost of a well and septic system.
Cost to Redrill an Existing Well
Redrilling an existing well can cost from $35 to $85 per foot. In general, it costs $3,000 to $6,000 to redrill an existing well. It's much cheaper than drilling a new well. You may not need to entirely redrill an existing well to access water, and redrilling a well doesn't guarantee that it will yield more water.
If your well is more than 200 feet deep, it's time to speak to your local well contractor about hydrofracking, which involves pumping highly pressurized water into the ground to break up rock at the bottom of the well. This creates new pathways for water to enter the aquifer.
There are different types of valves available and they all do a good job of regulating the water flow. A valve may cost as little as $1,250 or as much as $3,000, depending on the brand.
Factors Affecting the Cost to Drill a Well
Below is a list of all the factors affecting the cost of the well drilling process.
The Depth of the Well
The depth of the well is one of the most significant factors affecting the cost of drilling. This book is about deep wells. It is an explanation of what happens when you drill for oil, or explore for water, and the issues of how the well is built and kept stable.
Shallow water wells are much cheaper to drill than deep wells. They are typically only between 25 and 50 feet deep, which is why they're much cheaper to drill. Shallow wells are more susceptible to E.coli or coliform contamination during droughts, and deep wells produce a consistent yield of water, regardless of the season.
Water wells vary in depth, but all wells require that water flow into them. As a general rule, the deeper the well, the higher the water quality. However, deep wells cost more to install and drill than shallow wells because they need to penetrate far down into the earth.
| | |
| --- | --- |
| Deep Well | Shallow Well |
| 100 to 500 feet deep | 25 to 50 feet deep |
| 3 to 10 feet diameter | 4 to 6 feet diameter |
| Easily get's dry and contaminated with chloroform or E.coli | Doesn't easily get dry, has more yield, and can remain uncontaminated if installed according to regulations |
Your Location
There is no cost for well drilling in California. Whether you live in one of the lower- or higher-water regions of the state, or somewhere in the middle, the cost of living in your state will determine whether the state is good for you
Wyoming, Kansas, Utah, and Colorado have some of the highest average costs for drilling a well, with prices starting at $35 per foot. The most expensive states to drill a well are Alaska, Hawaii, Massachusetts, New Jersey, and New York, with prices starting at $30 or more per foot.
| State | Average Cost per Foot |
| --- | --- |
| Alabama | $28 – $60 |
| Alaska | $35 – $75 |
| Arizona | $28 – $59 |
| Arkansas | $26 – $58 |
| California | $31 – $66 |
Local Geology
The local geology of your area has a big impact on your local well conditions, and how difficult it will be to drill. Drill bits come in many shapes and sizes. The more complicated the drill bit, the more expensive the drill bit.
The differences between the different regions of the United States are many. They have different types of clay, sand, rocks, and soils that require different drilling processes and have different difficulties.
If your property is on a slope, the cheapest method of drilling is to use a hammer drill. You'll pay less than the average price, and your chances of getting a straight hole are much greater than with a standard drill.
Distance to Property
The closer your water well is installed to your property, the fewer materials will be needed to transport water from the well to your property's plumbing system. Main water lines can cost up to $30-$60 per foot.
A solar-powered pump can cost $2,000, but a power line costs only about $1,500.
Some states require that wells be located:
✅ Between 5 and 10 feet from your property line
✅ At least 50 feet away from a septic tank or septic system
✅ At least 100 feet away from utility lines and a septic tank drain field
Required Well Permits
To legally drill a deep well on your property, you'll most likely need a well permit. The cost of a well permit depends on where you live. You should expect to pay between $300 to $700 to obtain a permit. A well permit is an essential step before construction of a new well.
A permit is necessary before drilling your well. The government will tell you how to apply for your well permit and how much it will cost.
Ongoing Costs of Owning a Well
Well Water Testing
Testing your well water is one of the essential annual maintenance costs in owning a well. Well owners are responsible for ensuring the safety of their drinking water. To do this, they must test their water, then treat it to remove harmful contaminants if necessary.
You should have your well water tested at least once a year for total dissolved solids, nitrate, total coliform bacteria, and pH levels. It costs around $20 to $100 per year to do the testing. If you're testing your own well, the National Ground Water Association and the EPA recommend a more thorough test that is considered reliable by scientists.
A laboratory water test costs $150-$500 per year. However, a DIY water testing kit is less expensive and provides similar results.
Well Inspections
It's important to check your water well for problems before they become a serious problem. If you don't have a well inspection, schedule one with a professional at least once a year. Your contractor will inspect your well for cleanliness and mechanical problems, and advise you on any steps you may need to take following the inspection.
The cost of a well inspection depends on the contractor's rate and whether they provide other services, such as testing for water levels or cleaning.
Repairs and Maintenance
Alongside water testing and well inspections, you'll need to repair and maintain your well as recommended by your contractor. The average cost for repairing a well is about $930 to $2,500. The exact cost depends on which part of the well needs repair. Well pump systems are one of the most expensive items to repair or replace.
Water Treatment
Your home well water should be tested regularly for contaminants, as well as for your pH balance and water hardness level. The initial cost of a water treatment system is $700-$4,500. It just depends on the type of system you want and whether you need multiple systems to treat multiple water quality issues.
As a general guide:
| | |
| --- | --- |
| System Type | Average Cost |
| Water Softener | $800 – $2,500 |
| Whole Home Water Filter System | $700 – $2,200 |
| UV Purifier | $800 – $1,200 |
| Sediment Filter | $50 – $400 |
| Point of Use Filter | $200 – $650 |
The ongoing cost of owning a water filtration system is $0-$100 per year, depending on the type of system and the maintenance required. Systems like UV purifiers and oxidation systems are ideal if you're planning to set up a spa that provides these services.
Private Wells Vs Municipal Water
Have you been considering using a well for your drinking water? Wondering how much money you can save from using a well rather than a municipal water supply?
A properly constructed well should be inexpensive to install, but the initial investment may be costly. Once installed, however, there should be minimal cost for annual maintenance and water testing.
You'll also need to pay the electricity costs of pumping the water from the well. By comparison, a family of four that uses just over 12,000 gallons of water per month will pay $850 per year for their water bill.
A private well can save you at least $500 per year. Old wells and septic systems incur big maintenance, repair, and replacement costs. Every 20 or 30 years, you'll need to replace the water heater, pump, screen, and case, which will cost you about $10,000.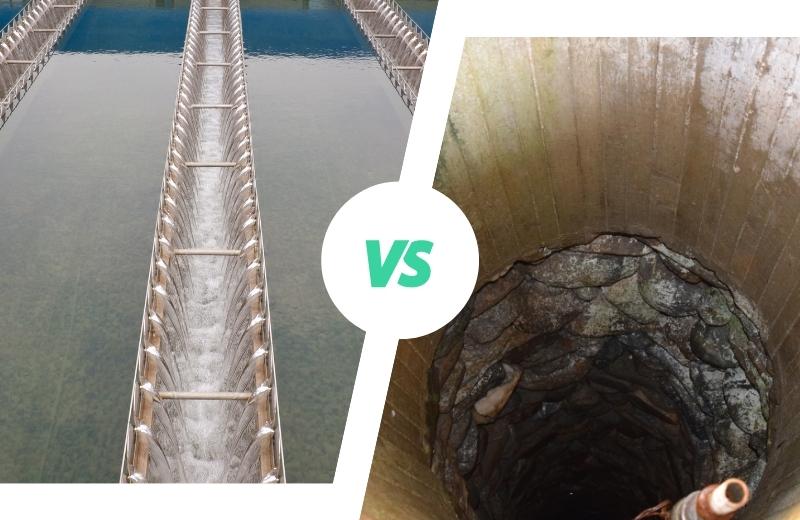 | Monthly Payment | Private Well | Municipal Water |
| --- | --- | --- |
| Water (12,000 – 24,000 gallons) | $0 | $25 – $45 |
| Maintenance | $10 – $20 | $0 |
| Electricity | $3.50 | $0 |
| Loan (15 years, optional) | $60 – $145 | $0 |
DIY Construction Vs Hiring a Professional
In addition to being cheaper than hiring a professional, installing a well yourself has the potential to be easier. But the estimated costs for DIY installation of a deep well aren't too different from the costs of a professional installation. Well, if you're in an area that doesn't have cheap drill rigs and/or inexpensive materials for drill pipes and tubing, and/
All these things will be needed to drill your own well. There are many reputable well drilling companies in your area, but the most trustworthy ones can cost about $5,000 per well. Having a healthy financial situation will help you to save money.
Should you Drill a Well?
Installing a complete water well system on your property is the smart choice. Once you've invested in a well, your only annual water cost is for well maintenance, and that's it. You'll never again need to pay for water.
Wells are for everyone. They may not be right for everyone, but they're certainly worth considering. The upfront cost to drill a well is simply too high for some people. There are many homeowners who choose to drill a well only after paying off their other, more important, investments, such as mortgages and student loans.
You must be in the financial position to pay between $1,000 – $5,000 or maybe more for well drilling before you agree to anything. It pays to do your research before you hire a company to drill a well. Contact a few different companies and ask them how they handle drilling wells.
Ask several contractors to survey your potential drill site and give you a quote for the complete drilling job. This includes everything — the cost of the pressure tank, the pump, and the casing. It's okay to ask questions and request a quote for drilling a well on your property. You don't have to sign up for anything after receiving a quote.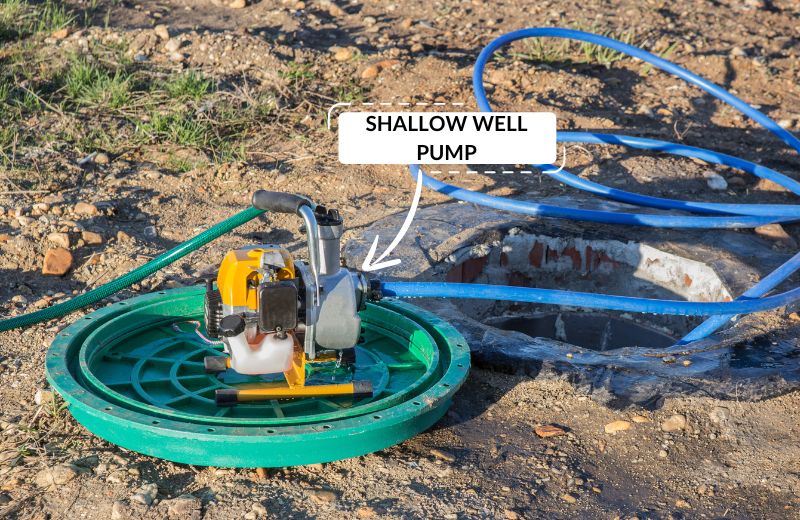 Well Drilling Cost: FAQs
How much should I budget for a well?
You should spend at least $5,300 to $9,200 to drill a deep well, or $1,800 to $3,000 to drill a shallow well.  There are many factors that affect the cost of a well. Your geographical location, the well's depth, the well's distance from your property, and the cost of permits.
What's the minimum cost to drill a well?
At about $1,750, drilling a well will cost less than most people expect. This cost assumes that the well is a shallow well. Deep well drilling costs at least $5,000.
How much does it cost to hook up a well?
The cost of hooking up a well is about $5,300 to $9,200. The cost will vary from country to country and also depend on your needs and requirements. Ask a local contractor to give you an accurate estimate of how much it would cost to drill a well in your area.
Can I drill my own well?
Yes, you can drill your own shallow well. However, you should not attempt to drill a deep well for drinking water without professional support. There are dozens of potential safety hazards involved in digging a deep hole. If you don't build your well correctly, it could crack or collapse. It's never wise to leave important things to chance. If you want the highest level of safety and peace of mind, leave deep well drilling to the experts.
Why is drilling a well so expensive?
A well is a very expensive proposition. It costs a lot of money because you're buying expensive well components, several days of labor and all the processes and parts required to make the well system operational.
What are the labor costs of well drilling?
There is no set cost for drilling a well, although this is the time that you'll spend the most money on it. Many contractors charge a set hourly rate, whether the job is large or small. They may charge more for larger jobs or less for smaller projects.